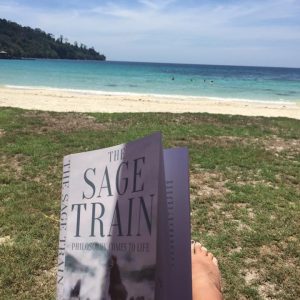 In this novel we get close to some of the great philosophical minds.
Immanuel Kant was a different kind of man to someone like John Stuart Mill. They would have addressed their own dilemmas from opposing starting points. Jump on The Sage Train to meet some famous philosophers, see their theories in action and evaluate their different appeal.
'Provides a new pathway into philosophy and the consideration of the most important issues any human being can address'  Peter and Charlotte Vardy Ethics Matters and God Matters
'Illuminates with grace and wit the lives of these giants of thought' Joe Jenkins Contemporary Moral Issues 
NICKY HANSELL holds a degree in English and Theology from Trinity College, Cambridge. She taught Philosophy and Ethics for many years in a large comprehensive school in Yorkshire. She is an examiner with OCR and writer/filmmaker for Ethics Online.
For more information and to buy the book, visit the website by clicking the button below.